x return to search results
starting at $150000 One Time Payment
Cheney Creek Tiny Homes

Milner, CO
About
We will be building 6 tiny homes on foundations, connected to all utilities, and offer them for sale at prices lower than any condo in nearby Steamboat Springs. Our goal is to build a small community that displays what a tiny neighborhood could be under this site built type of construction, and give affordable housing a new product that is sustainable in the long term.
We selected the location in Milner, Colorado due the availability of utility services. There is a sewer treatment plant nearby, electrical and shared water wells available. We will put all the homes on foundations.
We are anticipating the need for additional storage and mechanical system space. We will achieve this with a slab foundation with min 60" walls that will create a space for all mechanical and storage options. Accessed through a trap door in the floor.
Additionally, we created a large open covered deck. Under the deck will have creative spaces for storage.
The project is located in the small unincorporated town of Milner,  in Routt County, Colorado. Milner is a short 10 minute drive to Steamboat Springs along US HWY 40. Notice the ski mountain in the distance.
The project will consist of 6 tiny homes on individual permanent foundations and connected to all utilities. We will have an HOA for reasons of the open space, snow plowing and other smaller services. The county requires us to keep the parking close to the road, so there will be four spots off Main street and four off the back alley.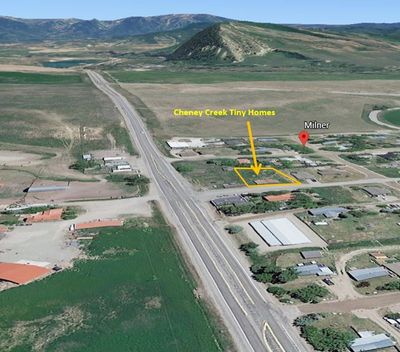 Tiny Homes in Milner colorado
Lifestyle
Type of Village
TINY-ONLY VILLAGE
Amenities
Community Building, Laundry, Laundry
Community Events
None
Culture
Family-Friendly
Economics
None
Governance
HOA
| | |
| --- | --- |
| Age Restrictions | None |
| Village Population | |
| Local Density | Small Town |
| Lot Sizes (sq ft) | 2083 |
| Number of Lots | 6 |
| Village Acreage | 1 |
| Landscape | Flat |
| Pet Policy | Unknown |
| Livestock | Unknown |
Miscellaneous
Accepting New Members?
Yes
Operating Status
Forming/Planning Stages
Are tiny houses legal in this village?
Yes
Does this village rent out housing?
Owner-Occupied Tiny Houses
Utilities Available
Water, Electric, Septic, Trash/Recycling, Electric, Septic, Trash/Recycling
Amps Available
Unknown
Types of Houses Allowed
Tiny Houses on Foundations
Regarding Housing Certificates
IRC
Foundation Requirements
Housing Restrictions